MESSAGE FROM PRINCIPAL KATHLEEN SULLIVAN
Gaggle

Last Spring, Eanes ISD launched the Gaggle Safety Management solution to improve student safety on district-provided email and Google Drive accounts. This tool allows the school district to analyze student content for inappropriate behavior as well as identify potential serious situations, such as self-harm, cyberbullying, substance abuse, threats and more.

Eanes ISD uses Gaggle to scan students' district-provided email and file storage to identify inappropriate content such as images and words or statements indicating if a student is in crisis. Gaggle combines technology with expert safety representatives, who personally review content around the clock to identify inappropriate words and images in students' Gmail, Google Drive, Google Docs and more. Trained professionals then apply consistent, district-approved policies for positive intervention, alerting school officials if there is an imminent threat to a student or school.

In addition to Gaggle, the school district also relies on other resources and protective intelligence partners to assess potential threats or concerning behaviors, as allowed by SB 11. Collecting and analyzing data from a variety of sources and databases, Eanes ISD is vigilant in taking the initiative to care for and pre-empt the possibility an individual may plan to harm oneself or others – while safeguarding the privacy of students and their data.
To learn more about Gaggle, visit http://www.gaggle.net.
I will be explaining Gaggle to students next week so they too are aware. Since we have been using it the past few months it has been a valuable tool in identifying situations where our students need support. If we receive a Gaggle notification involving your student we will reach out to you, share the information that was of concern and work with you and the student to address the issue and provide additional support as necessary.
SCHOOL PICTURES will be October 21st for both our In-Person Students as well as our Remote students.
Remote students may sign up for an appointment HERE. Students should schedule their appointment during their Social Studies class. The remote student drive through photo's will take place in front of the school.
Here is the online ordering link for all students:
https://vando.imagequix.com/g1000820734#login
If you would like a paper order form, please have your student stop by the office to pick one up.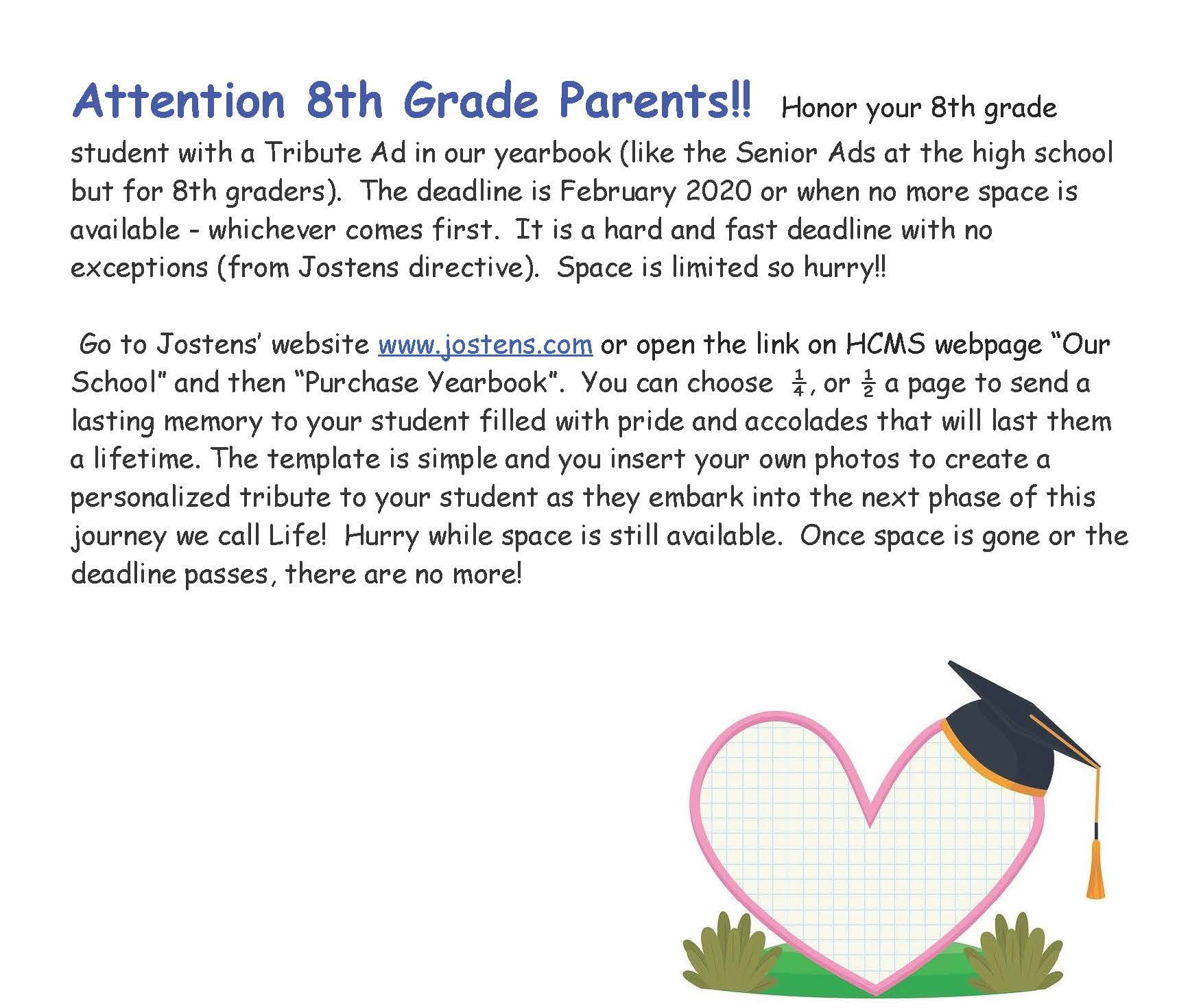 If you ordered a 2019-2020 yearbook for your students and did not pick it up in May or August before school started, please have your student come to room 110 during advisory to see Ms. Gray before October 15, 2020. We do not have storage space and unclaimed books will be recycled/repurposed. If you are on the waitlist, I will contact you after October 20th.
Library Materials DUE!
If you received an email about overdue Library materials, we are excited to take those materials off your hands!
We are now collecting library materials (books, calculators, & keyboards) and would love for you to return them some time next school week (October 13-16).
If the books were checked out from another school you CAN return them to HCMS and we will send them to the appropriate library for you :)
If your student is an in-building learner, they can return them in the book drop in the hallway just outside of the library doors.
If your student is a remote learner, you can return them to the school next week. We will place a green book cart just outside the front doors of the school (see pic). You may leave their library materials there any time between 8am - 4pm October 13-16.
If your student is at the high school, they may return their books to the Westlake High School Library and they will send the books over to us.
If you have any questions, please feel free to email hschubert@eanesisd.net
Thank you!
- HCMS Library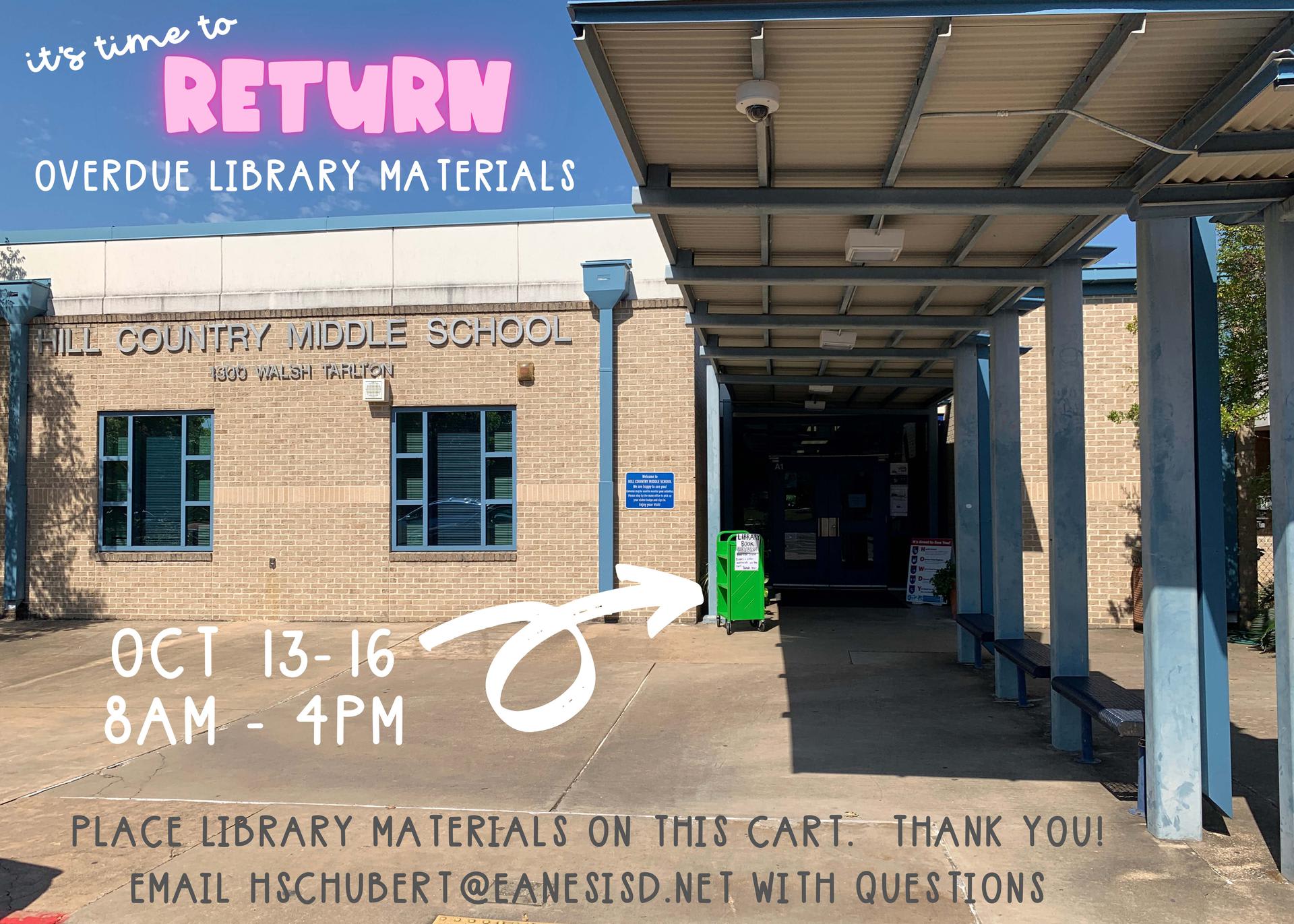 Destination Imagination
There will be a district-wide informational session (via Zoom) about the Destination Imagination program on Tuesday, October 13, at 6:30 PM. Please email Carol Reese at creese@eanesisd.net to receive an invitation with the Zoom link for this meeting if you have not already contacted her.
The Cougar Cross Country team traveled to Hudson Bend to compete Saturday 10/3. Both the 7th and 8th grade boys teams won the team titles as meet champions and the 8th grade girls team was runner-up.
Individually the Cougars had the most runners placing in the top ten.

For the 7th Grade boys Thompson Bennett was the 1st place finisher followed closely by Finn Breitenbach. Maxwell Holgate 8th, Wyatt Caudle 9th, and Tobin Nguyen 10th were the other top finishers for the team.

The 8th grade girls were paced by Addie Huff's 4th place finish. Milania Welsh 7th, Lauren Niclair 8th, and Ireland Horne 10th were the other top ten finishers.

8th grader William Kugler ran a 12:19 over the two mile course to have the fastest time of the meet of any athlete on his way to the meet championship. Izel Gonzalez 4th, Gavin Condon 5th, Rylan MIddlebrook 6th, Blake Egeland 8th, and Dean Okonsky 10th were the other top ten finishers.
The Cougar Cross Country team had an outstanding performance 10/7 at the Bee Cave Middle School meet with 7th boys, 8th girls, and 8th boys all winning the team championships.
7th grade boy's meet champion Thompson Bennett, Finn Breitenbach 2nd, Maxwell Holgate 7th, Tobin Nguyen 8th, and Wyatt Caudle 9th were the top 10 finishers.

Addie Huff was the 8th grade girl's meet champion. Other top 10 finishers were Milania Welsh 2nd, Ireland Horne 6th, and Janine Dubois 7th.

8th grade boys' meet champion William Kugler's time of 11:58 for two miles was the fastest time on the course. He was followed by top 10 finishers Izel Gonzalez 6th, Rylan Middlebrook 7th, Blake Egeland 8th, and Gavin Condon 10th.
Oct 12 2020
Student Holiday
All day
Oct 13 2020
7th Grade FB @ DSMS
5:00 PM - 7:30 PM
Oct 14 2020
NJHS Meeting - Cafeteria
1:40 PM - 2:00 PM